GUITAR RESETTLEMENT PROJECT
North Carolina is one of many welcoming states for refugee resettlement. 
The Guitar Resettlement Project arose from a personal experience. I was involved with sponsoring a recent resettled Afghan family. I had donated an investment property to them to move into. It was a mother and 3 adult children. They were in the process of getting work authorizations, social security cards,  jobs and taking English classes. In the weeks working up to these accomplishments, there wasn't a lot for the young adults to do. Being a musician specifically a keyboard player,  I thought having an electric keyboard might give them something to do. With permission from their mom, I put an electric keyboard in their home should they choose to want to tinker with it. The keyboard had mixed reactions.  Hamid, the youngest asked if I played guitar.  I told him just a little but I had a lot of musician friends and perhaps I could find him a guitar.  One Facebook post later the program was born!  We've gifted 13 guitars, have a good inventory and are expanding. We are spreading musical hope and inspiration one guitar at a time. 
JR Luther from SE Systems in Greensboro, NC volunteers his time and knowledge restringing and refurbishing all donations to prepare then for gifting. 
If you are part of a community refugee support group, church group, CWS, or NCACS sponsoring refugees settling in the Triad area and would like information about our program please fill out the form below and we will get back to you.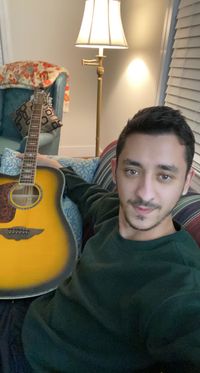 The Guitar Resettlement Project has become an extension of Triad Musicians Matter and broadened its mission.
At present, our scope of donations, instruments or money, because of our bylaws are limited to distributing to resettled families in the Piedmont Triad. We hold GRP monetary donations separate from our general funds.  All donations, whether an instrument or financial donation, all are tax deductible. 
If you are considering donating a guitar, depending on its location, I can pick it up. If you need to ship one, you can write the shipping costs off your taxes and send it to:  Triad Musicians Matter, PO Box 4454, Greensboro, NC 27404-4454.
If you'd like to donate money for guitar cases, lessons, capos, or whatever else is needed, you can donate from the page on our website. Please note that it's for the Guitar Resettlement. 
If you are working with a refugee family and think they would want a guitar for a family member, please call: 615-244-6893 and leave a VM.  
Thank you in advance for blowing up what started as a little idea but is going to change a lot of lives!!!  If you need to reach me or you have any questions, feel free to call!